It is natural for a person to have a number of interests and capabilities. Choosing a career or occupation is for many a challenge and throughout their life, they may wonder whether they have chosen correctly?
A person can approach career choice in various ways. In this article, we will focus on a logical process of career management. According to Greenhaus and Callanan (1994) a career is defined as a "pattern of work-related experiences that span the course of a person's life." Career management refers to an objective event like positions, job functions and job duties and a subjective interpretation of a person's experience. The subjective element includes feelings, aspirations, needs and values. Thus when choosing a career all these aspects need to be taken into consideration. A choice is influenced by rational facts like marks at school, learning and concentration ability, logical reasoning and cognitive capacities and emotional factors like motivation, needs, interests and preferences.
A person who needs to make a career choice should engage in an ongoing process as follows (Greenhaus et al (1994)):
Gather information about oneself and the world of work
Develop an accurate picture of one's interests, values, jobs, life-style, talents and cognitive abilities
Develop realistic career goals based on the above information
Develop and implement a strategy designed to achieve these goals
Obtain feedback on the effectiveness on one's strategy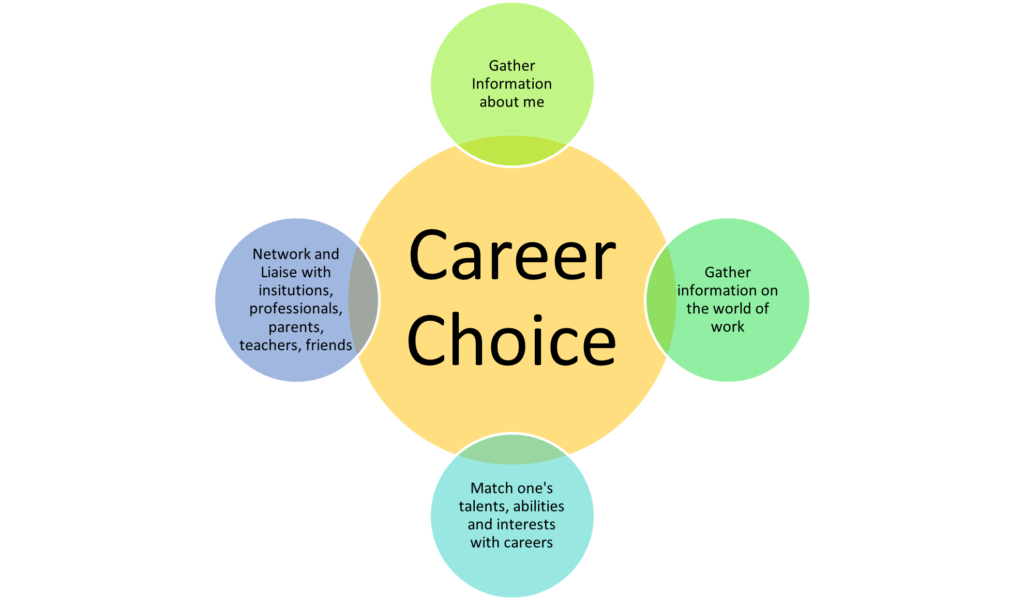 Gather Information about Me:
To gather information about oneself, one needs to engage in self-exploration. In order to develop a career identity or set meaningful goals, one needs to understand oneself. Many have hobbies that they one to execute as a main work function, others want to keep these as hobbies, jet others have aspirations that are greater than their abilities and talents. It is essential to engage in self-exploration and examine ones values, interests, talents and life-style.
Values are abstract outcomes a person wants to attain (Super and Bohn, 1970), like being altruistic or creative. (A list of values is displayed below). Interests, however, refer to a persons like and dislike of activities. A cluster of interest was defined by Holland Interest Types (1985) or by Maree in the Career Matrix (2016). Talents are the aptitudes, cognitive abilities, and skills a person possesses. These play a major role in making a career choice.
A self-exploration process entails to ask oneself the following questions:
What are my significant values?
What activities do I like?
What are my talents and abilities?
What are my interests?
5. What do I like to achieve in my life?
What balance do I need to be healthy?
Examples Work Values
Altruism
Esthetics
Creativity
Intellectual Stimulation
Independence
Achievement
Prestige
Economic Returns
Examples Interests
Realistic (mechanical, nature)
Investigative (science, math, medical)
Artistic (art, music)
Social (teaching, psychology)
Enterprising (sales, merchandising)
Conventional (office practice)
Examples Talents
Intelligence
Dexterity
Verbal Reasoning
Logical Thinking
Precision of Movement
Speed of Response
Perceptual Ability
Mechanical Reasoning
A career assessment process utilizes scientific methods to determine the values, interests, motivations and talents of a person. This process forms an important step in gaining understanding of oneself. This insight helps a person to make logical sense of what possible careers could fit to the person's objective and subjective elements that influence career choice.
Gather Information about the World of Work
Self-exploration is an essential ingredient in making a career choice, so is environmental exploration and the exploration of the world of work.
An effective self-assessment also entails to become aware of the kinds of work experiences that may be personally meaningful and interesting. One should assess a preferred work environment. In this process, one should analyze what type of work environment is compatible with ones talents, interests and values.
Important questions that one should answer are:
What type of tasks are interesting to me?
What talents do I wish to use in my work?
How much freedom and independence do I want?
What type of working relationships do I prefer?
What type of physical work setting is important to me?
What is the role of money and security in my life?
How important is work in my life? How many parts of my life should it consume?
Answers to these questions helps facilitating an understanding the preferences of one's potential work environment. In addition, one should gather information about specific occupations, jobs, organizations and industries. School leavers should make a list of all jobs they like to learn about more and prioritise the ones that stand out for them the most. In this process, one could gather information about careers through learning about industries, reading company's annual reports, networking with family and friends working in different companies, studying reference materials describing jobs and occupations, and getting advice from career counsellors.
Options broaden a person's perspective and leads to improved decision-making.
In summary, the process enhances one's understanding of who we are. It facilitates to understand one's strength and weakness and how these can be aligned to a career that supports a person's talents, interest, values and aspirations. Making a career choice is one of the most profound decisions that a person has to take in life, thus the more effort a person puts into this process the more likely it is that the person is satisfied with the choice. An assessment process can optimally assist if it takes into consideration all aspects like talents, values, interests, motivation, and personality. A holistic approach and detailed information gathering will lead to a successful career choice.
https://www.careeraddict.com/5-benefits-of-career-counselling
https://www.nasp.com/blog/5-main-benefits-of-career-counselling
Greenhaus, J.H and Callanan, G.A., (1994). Career Management. (2nd Ed). Dryden Press, Harcourt Brace College
Maree, J.E and Taylor, N. (2016). Development of the Maree Career Matrix: A new interest inventory, South African Journal of Psychology 46 (4). DOI: 10.1177/0081246316641558
Super, D.E., and M.J. Bohn Jr. Occupational Psychology. Belmont, CA: Wadsworth, 1970